Beneficiaries
Beneficiaries for the 2016 Rotary Lobster Feed & Charity Auction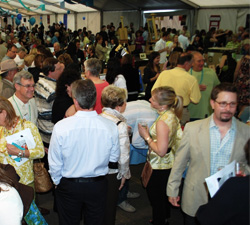 The Lake Oswego Rotary Club in partnership with Lakewood Center for the Arts will once again be undertaking its annual "Lobster Feed & Charity Auction under the Big Tent" on June 18, 2016 and you're invited to join more than 600 people to raise funds to benefit local charities.

The beneficiaries of the 2016 are still being determined.
************************************************************************
Below is a listing of beneficiaries from the 2015 event. They included the Lakewood Center for the Arts, Hospital for Hope, Lake Oswego Meals Network, NAMI Clackamas County, Happy Trails Riding Center and Mobility Impaired Golf Association.
A brief description of services provided by primary beneficiaries:
Lakewood Center for the Arts
Lakewood Center for the Arts a partner/beneficiary of the auction. Together with the Lake Oswego Rotary Club, the two organizations band together to raise funds that benefit our community. Lakewood is a nonprofit cultural organization that works to inspire and nurture a love of theatre and the arts in the Portland metropolitan area, Vancouver, Washington, and the greater Willamette Valley.  The Center initiates and sponsors educational and cultural programs in theatre, visual arts and community events for more than 100,000 people each year in the following subdivisions:
Lakewood Theatre Company: theatre productions (resident and touring) and classes in performing arts for children and adults.
Lake Oswego Festival of the Arts: annual city wide celebration of visual and performing arts attracting 22-25,000 people.
Lakewood Center: visual art classes, gallery exhibitions, lectures, concerts and special events.
Lakewood has been a partner/co-sponsor of the annual Lobster Feed & Charity Auction since its inception. Website: http://www.lakewood-center.org/