Auction Items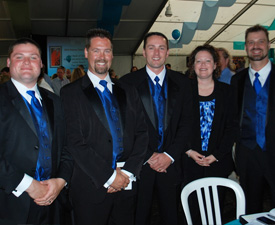 Below is a sampling from a prior auction. Stay tuned to this site for updates in May 2014

ITEMS IN THE 2012 LAKE OSWEGO ROTARY LOBSTER FEED & CHARITY AUCTION

501  DON'T CRY FOR ME ARGENTINA PARTY
Save the date: Saturday, October 16, 2012, 7:00 PM
Dinner, wine and tango at the home of Paul & Teri Graham!
An evening to remember! Bring your dancing shoes for a tango lesson and an Argentinian-themed dinner.  Enjoy a travelogue of Malbec wines from the highest vineyards in the world to scenic steppes of Patagonia. Tango dancer, Megan Pingree, has partnered with the best tango dancers in Portland and now she'll partner with you for a lesson and malanga you'll remember. Your multi-coursed Argentinian meal will be waiting for you: saucy meats and roasted vegetables; fresh salads and molten desserts all enhanced with the wines of the country. The lucky four couples will be hosted at the home of TERI & PAUL GRAHAM ASSISTED BY GWEN & JOHN TURCHI AND LARRY FALLER. $1,000

502  ONE WEEK AT BLACK BUTTE CONDO
3 bedroom home, sleeps 8
Beautiful setting at Black Butte near Sisters, Oregon
Jump-start your summer plans with a one-week stay at the Black Butte Ranch in Central Oregon near Sisters. With seven nearby mountain peaks, giant stands of Ponderosa Pine, Aspen and abundant wildlife, Black Butte Ranch's pace is unhurried and the setting is pristine. Enjoy a front row three bedroom country house condo with a view of the meadow and mountains. Nearby recreation includes hiking, golf, swimming, boating, bird watching, fishing, tennis and more! This condo sleeps eight (queen in master bedroom, two doubles, and two bunk beds) and is available on a mutually agreed upon week in August, September, October, or winter holiday weeks. The package includes a cleaning fee paid by the donor. Reserve your stay as soon as possible. Expires May 31, 2013. A gift donated by BOB WOLLMUTH & CHRISTY ALTER. $1,900.00

503  THEATRE EXTRAVAGANZA FOR 10 AT LAKEWOOD THEATRE
Dinner for 10 at the lakeside home of Jon & Linda Kerl
See the musical South Pacific at Lakewood Theatre Company
Meet the cast after the show and have dessert
Enjoy an outing for 10 people to enjoy the musical, South Pacific. Your evening begins at The Stafford on Overlook Drive with wine and hors d'oeuvres and your party will travel by coach to the lakeside home of Jon & Linda Kerl (Lakewood board member) where you'll enjoy a gourmet dinner and a play preview given by Lakewood's Executive Director, Andrew Edwards. You will then be transported to the theatre, enjoy the show and attend a post-play reception with the cast. You then return to The Stafford by The Stafford Coach. Choose from three dates, either Fridays, September 21, 28 or Saturday, October 6, 2012. A gift from the LAKEWOOD CENTER FOR THE ARTS BOARD OF DIRECTORS. $1,600.00

504  DINNER FOR 35 AT SCRATCH – JULY 3, 2012
Artisan Dinner for 35 prepared by Chef Patrick Lee Warner
Wine provided
Restaurant is your private dining room for the event - Tues. July 3, 2012
Lake Oswego has a new great restaurant! Scratch is a fine dining restaurant with a focus on world cuisine that is owned and operated by Chef Patrick Lee Warner. Chef Warner uses seasonal ingredients sourced from artisan and organic local farms and businesses. The menu changes monthly, and of course, everything is made 100% from scratch and if requested, gluten free! On Tuesday, July 3, 2012 he will do the gourmet food and Rotary will provide one case of red wine and one case of white wine, with other beverages available for separate purchase. ENJOY! Date to be mutually agreed upon, gratuity not included. A gift from SCRATCH RESTAURANT. $3,500.00

505  STUNNING 18K GOLD RING WITH TOURMALINE & DIAMONDS
Custom made ring from local artist-jeweler Dyke Vandenburgh
18-karat white gold custom ladies ring with one eight ct. shield-cut pink tourmaline and 10 G-VS round brilliant diamonds at .22 ctw each. Size 7. Ring can be sized later at bidder's expense. Donated by DYKE VANDENBURGH JEWELERS. $4,600.00    

506  DINNER WITH HORST MAGER - A PORTLAND CULINARY LEGEND
Popular Celebrity Chef Horst Mager prepares a meal for eight
Appetizers, wine and dessert provided
Dinner at the home of Carol & Renner Winston
Eight people will enjoy a fabulous gourmet meal prepared by Chef Horst Mager, a Portland culinary legend and owner of Der Rheinlander and Gustav's restaurants. Meal includes appetizers, dinner, wine and dessert at the home of past Lake Oswego Rotary President and current Assistant District Governor Carol Winston and husband Renner. Available July through November 1st. A gift from HORST & ILKE MAGER, CAROL & RENNER WINSTON AND BOB & BETTY MCCALL. $1,000

507  VACATION IN MONTALCINO, ITALY
One-week stay for 6 in a fully furnished house in Tuscany
Added 2 nights stay for 2 people at a hotel in Florence
Counseling/orientation session with professional travel consultant
One week stay in the beautiful hill town of Montalcino, Tuscany in a fully furnished house that sleeps six with two full bathrooms, a kitchen and all the comforts of home. Visit nearby wineries famous for Brunello wine. All of Tuscany is within a short driving distance with Montalcino as your home base. Your package also includes a two-night stay for two people at a charming hotel in Florence, a one-hour counseling session with a professional travel consultant and a guidebook to Florence and Tuscany. Valid for travel from September 1 through August 31, 2013. Dates subject to availability of the house in Montalcino. Buyer to provide first and second choice weeks. A gift from PETER & GLORIA JURNEY and AVANTI  DESTINATIONS. $2,200.00

508  ENJOY A WEEK OF SUNSHINE IN LAQUINTA
One-week stay for four people
Mountain view condo
Year-round warm climate!
One week stay for four people in a beautiful mountain view condo with two master suite bedrooms close to downtown LaQuinta, CA in Riverside County. You'll find spectacular golf (more than 20 golf courses), biking, hiking, swimming and sunshine in the Santa Rosa and San Jacinto mountains! High mountain ranges on three sides of the city contribute to its unique year-round warm climate, with the some of warmest winters west of the Rocky Mountains. Your stay must be Saturday – Saturday on a mutually agreed upon date in September or October 2012, or April 2013. A gift from GAIL HART. $2,500.00

509  SHOP AND AWE - PACKAGE PROVIDED BY ACCESSORIES FROM THE HEART
Party for 10 BFFs (Best Friends Forever) at the fabulous boutique Accessories from the Heart
Martini bar, appetizers and a dinner from Tucci Ristorante
Truffle rolling and tasting courtesy of Chocolates by Bernard Callebaut
Party favors, swag and $1,000 in credit for wonderful items
This event is definitely NOT sanctioned by Shopaholics Anonymous! A lucky bidder and nine of her BFFs (Best Friends Forever) will enjoy three hours of private shopping and entertainment at the famed Accessories from the Heart boutique in Lake Oswego. Your exclusive event will include a martini bar, appetizers and dinner by Tucci Ristorante and truffle rolling and tasting courtesy of LAURA ADLER of BERNARD C. CHOCOLATES. You'll also receive swag galore (aka: party favors), shopping tips and raffle items. To top it off, you'll receive $1,000 in Accessories from the Heart SPENDING MONEY to get the party started. Wow! A gift from Past Lake Oswego Rotary President CAROL WINSTON,  ACCESSORIES FROM THE HEART. $2,500.00

510  ONE WEEK IN TUSCANY FOR FOUR PEOPLE
One-week stay for four in remodeled 2-bedroom farmhouse in Tuscany
$1,000,000 property with swimming pool and patio with view
This beautifully remodeled two-bedroom farmhouse in Tuscany is the perfect jumping off point to experience the wonders of central Italy. On the Medieval Silk Route, your accommodation is perfectly situated to explore the magic of Florence, Siena, Genoa, Pisa and the Etruscan ruins of Populonia. Massa Marittima (5 minutes) and Follonica (15 minutes) are a short distance away. Prepare to enjoy Italy in style in this $1,000,000 property complete with swimming pool and a patio overlooking the green countryside of Tuscany. Don't pass this one up! A gift generously donated by CHRISTINE SALVISBERG. $2,500.00

511  A DINNER FOR EIGHT WITH OSU COACH CRAIG ROBINSON
Dinner with Coach Robinson at Lake Oswego home of Mike & Darcy Moore
Hosted by the Moores and the Glazers
Meet and greet the coach who was twice the Ivy League Player of the Year
Calling all Beaver fans, college basketball fans and everyone who loves an American success story! Enjoy dinner for eight with OSU Men's Basketball coach Craig Robinson at the Lake Oswego home of Mike and Darcy Moore, hosted by the Moores and Peter and Cyndie Glazer (date to be mutually agreed upon). Craig is an accomplished man who played for Princeton and was twice the Ivy League Player of the Year. He earned an MBA and was a bond trader in Chicago for a decade before returning to basketball as a coach. He's also the older brother of First Lady Michelle Obama. It's sure to be an evening full of interesting and inspiring conversation! A gift from MIKE & DARCY MOORE and PETER & CYNDIE GLAZER. $2,000.00

512  ROLL TO THE WINE IN CLASSIC CAR STYLE
10 people travel in style in classic sports cars to Willamette Valley Vineyards
Winery tour and wine tasting included
Truffle rolling and tasting party
You and up to nine of your friends will ride in very rare sports cars (e.g. '65 corvette, '40 Chevy Coupe, '53 Jaguar) from Monte Shelton's Collection to Willamette Valley Vineyards for lunch catered by Gourmet Productions. The outing includes a winery tour and a wine tasting. You will then enjoy a truffle rolling and tasting party courtesy of LAURA ADLER from CHOCOLATES BY BERNARD CALLEBAUT. A gift from JUDE & KEVIN GRAHAM.  $2,500.00

513  ONE WEEK STAY AT SUDWALA LODGE IN SCHAGEN,
SOUTH AFRICA, FEB. 22 -MAR. 1, 2013
One-week stay in South Africa for 4
Enjoy Enjoy swimming, hiking, horseback riding, bird watching
See nearby attractions such as Jane Goodall's Chimp Eden
This trip of a lifetime includes a one-week stay, Feb 22 – March 1, 2013 in Sudwala Lodge in South Africa. Your beautiful chalet is nestled below the famous Sudwala caves, alongside the Houtbosloop River. Accommodations for 4 include one bedroom and a separate room with a sofa bed. Enjoy onsite swimming, a game room, golf, childcare, a children's pool, conference facilities, laundry and live entertainment. There are nearby hiking trails, horseback riding and opportunities to view a wealth of bird species. Other nearby attractions include: the world famous Sudwala Caves, safari in Kruger National Park, Jane Goodall's Chimp Eden, the Sabie River and the Moholoholo Animal Rehab Center. The package also includes 21,000 air miles ($1,000 value) from PETE STIDD through Alaska Airlines or partner airline. Special note: This item is excluded from the Golden Ticket raffle. A gift from BARBARA THOMPSON. $7,800.00

514 PADDLE RAISE
Fresh clean water is an essential and limited resource with a growing disparity of access globally! That's why Rotary has partnered with Engineers Without Borders to deliver drinking water to Kenyan villages and other projects around the world sanctioned by the Rotary International Foundation.

515 MARDI GRAS DINNER FOR EIGHT
Creole and Cajun food for Eight with Hurricane drinks
Jazz and Zydeco music
French wine
As they say in New Orleans, "Laissez les bons temps rouler," or "Let the good times roll!" Enjoy an elegant dinner in the finest Creole and Cajun traditions as your party of eight celebrates Mardi Gras! Listen to New Orleans Jazz and Zydeco music, enjoy a welcoming Kir Royale to begin the festivities and then sample our Cajun crab cakes with Hurricanes made from the recipes of Pat O'Brien's Restaurant in the French Quarter as you don your Mardi Gras masks, beads and party attitude. Then sit back and enjoy the elegance and flavor of New Orleans cooking as you savor the taste of chicken sausage gumbo, roast beef tenderloin with Marchand de Vin sauce and Jambalaya à la Baton Rouge all accompanied with fine French white and red wines selected just for you. And, of course, our Mardi Gras dinner ends with the traditional King Cake as we crown and toast the King for the Evening with a Pernod absinthe digestif! Chicory coffee from Café du Monde will help get you on your way back home from this magical Mardi Gras Celebration! We recommend this offering be best enjoyed on or around Fat Tuesday, which is February 12, 2013 - but can be set at a mutually convenient date. Donated by DON IRVING, DAVID & KATHY BUSSMAN and MALCOLM & LINDA MATHES. $2,000    Offer expires May 31, 2013.   

516   WEEK IN MAZATLAN
7-night stay in a one-bedroom unit in Mazatlan
Pristine beaches, sun and surf and nearby historic sites
Schedule your winter getaway today!
Enjoy seven nights of accommodations in a one-bedroom unit at Torres Mazatlan. Known as the 'Pearl of the Pacific,' Mazatlan boasts miles of pristine beaches, rich history, and bountiful outdoor activities.  You'll find endless ways to spend your days, from visiting the historic sights of one of the oldest inhabited areas in Mexico, to relaxing in the surf and sun of the Zona Dorada (Golden Zone).  Sip mango margaritas at the newly renovated palapa restaurant and bar while planning your next day's activities.  Torres Mazatlan offers a wealth of onsite amenities, including a beach, swimming pool with kids pool and jacuzzi, tennis, and a full activities program.  Whether you are looking for deep sea fishing, disco, exceptional dining, shopping or simply sun filled days, Mazatlan has so much to offer that you are sure to make memories to cherish. Reservations may be scheduled up to ten months in advance on a space available basis. No restrictions except holiday periods. Certificate cannot be exchanged for a different property. Expires 6/16/13. Holiday periods include Thanksgiving (Thursday - Sunday) and Christmas (12/20 - 12/31). Donated by VACATION INTERNATIONALE AND ROGER & JUDY BLECHER. $1,500

517 PROHIBITION PARTY FOR 40
Saturday, October 27, 2012, 8:00 pm-midnight at the newly remodeled historic Masonic Lodge in Lake Oswego
Come in style for a 1920s theme and dance to the smooth sound of 'Traditions.'
Wine, beer, and 'bathtub gin' provided with an excellent array of hors d'oeuvres by Tucci, Gourmet Productions, Zeppo and Skewer.
A great evening party for your staff, clients, friends or a fun way to celebrate a birthday, anniversary or even Halloween!
Hidden away on Second Street in Lake Oswego, the newly remodeled historic Masonic Lodge is the perfect location for the party. Gather your group of 40 for a memorable evening, come in 1920s style and dance to the smooth sound of 'Traditions.' Be prepared for a surprise or two! Wine, beer and "bathtub gin" will be served by card-carrying Rotarians. The evening includes an excellent array of hors d'oeuvres provided by Tucci, Gourmet Productions, Zeppo and Clarke's Restaurant. This is a great evening party for your staff, clients, friends or a fun way to celebrate a birthday, anniversary or even Halloween! Donated by LAKE OSWEGO ROTARIANS MARK BIRGE, TRACY CHAPMAN, PAUL GRAHAM, STEVE GRIFFITH, ROGER HENNAGIN, MATTHYS HEYNS, BOB LIDDELL, BRAD PARROT, BOB SACK and PETE STIDD.    $2,000.00    

518 TIMBERS SOCCER CLINIC FOR UP TO 20 KIDS
A great offering for up to 20 kids (ages 5-13)
Top tier soccer coach Mike Smith offers his expertise
Three-hour Soccer Clinic for up to 20 kids (ages 5-13) with Mike Smith, Oregon Youth Soccer Academy Director for the Portland Timbers. Mr. Smith has been on U.S. Soccer's national instructional staff since 1999 and holds USSF National 'A' and FIFA Futuro licenses among his coaching credentials. His coaching background includes time as head coach of the Olympic Development Program's Region IV team, working with the U.S. U-17 Women's National Team and serving as an associate head coach for the women's programs at the University of Oregon and Santa Clara University. Package is valid for one year at a date to be mutually agreed upon at an OYSA training facility. The package also includes two signed Timbers jerseys and two tickets to the August 31, 2012 Timbers game against the Colorado Rapids. A gift from OREGON YOUTH SOCCER ACADEMY and THE PORTLAND TIMBERS. $2,500.00

519  SPOOK-TACULAR NIGHT AT THE KASBAH FOR 8
Dinner for 8 with Halloween & Middle Eastern themes on Friday Oct. 19, 2012
Offering can be scheduled later if the date doesn't work, but theme will change
Middle Eastern treats and suprises - a night to remember!
This ten-course Moroccan Dinner for eight with lots of surprises is set for Friday, October 19, 2012 (or can be scheduled for a mutually agreeable date) at the home of Chuck & Sarah Pollak. Be transported to Morocco for an evening of delicious Middle Eastern delicacies and delightful entertainment. All who attend will always fondly remember this event. Though we never do things the same way, last year's evening included ten courses with cocktails to match, belly dancing and lessons, a snake charmer and the traditional hand washing and tea ceremonies. The date may be altered with 60 days notice. Date does not have to be during the Halloween season. Offer expires April 30, 2013. Donated by CHUCK & SARAH POLLAK, BRIAN KAGAN, DR. CARRIE & GREG LAIRD. $2,000.00

520  ALLURE OF THE CAR TOUR OF RON TONKIN'S PRIVATE CAR
COLLECTION FOR UP TO 12 PEOPLE
Dinner after Auto Collection Tour
Hooked on Driving's high performance driver education one-day school. Winner has a choice of available dates.
Hooked On Driving's "Getting on Track" Video
"The Allure of the Automobile" book
VRRROOOOOMM! The Allure of the Car is the ultimate automobile lover's experience. You and 12 guests get the green light to take a special tour of Ron Tonkin's private car collection. Following this once in a lifetime experience, you and your guests will "park it" for dinner at the home of Craig Childress. And, the fun doesn't stop there! You and one guest get the opportunity to jump in the driver's seat at Hooked on Driving's high performance driver education program. This one-day class will have you and your guest speeding down the raceway in your cars like the pros. Your Hooked On Driving experience also includes an instructional video, "Getting on Track, " to help you do just that. Finally, you have a chance to take a "brake" from all of the excitement and kick back with the book "The Allure of the Automobile," which will undoubtedly get you revved up for your next automobile adventure. Donated by RON TONKIN GRAN TOURISMO. $1,000

521  THREE NIGHTS IN A BEAUTIFUL ARCH CAPE BEACH HOUSE
A magnificent ocean-front four bedroom, four bath 4,000 sq. ft. Craftsman home with panoramic ocean views from every room.
A perfect weekend get-a-way!
Excludes Summer and most holidays
Head to the coast in style! Enjoy three nights at a luxuriously beautiful Arch Cape Beach House. This magnificent 4,000 sq. ft. oceanfront four-bedroom, four-bath craftsman home sleeps up to 14 people and has panoramic ocean views from every room. Cleaning deposit paid by ROGER HENNAGIN, home and stay donated by MARY & ALAN SOLARES. $2,000.00
CLICK HERE to download a copy of items in the Oral Auction
CLICK HERE to download Silent Auction Adventure Alley & Bucket List opportunities
CLICK HERE to download information on Fabulous Parties that will be found in our Silent Auction!
CLICK HERE to download information on wonderful vacation opportunities that will be found in our Silent Auction!
CLICK HERE to download information on wine tasting events you can only find in this year's Silent Auction!